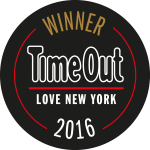 "Hops Hill was created from my love and passion for beer, I wanted a Bar like no other that beer lovers could call home".





Hops Hill in New York Eater 11 Excellent Beer Destinations to Try in New York City
by
Levi Dalton
Oct 2, 2015, 5:07pm EDT
1
Hops Hill"Strictly craft" is the tag line at Hops Hill, and they mean it. The twelve taps are dedicated to of-the-moment craft selections, many from Brooklyn area breweries like Threes and Other Half. The extensive bottle list features several options with considerable bottle age on them, and the prices can escalate quickly for some of those choices. You may have heard the rumor that a bottle of beer can cost as much as $150 at certain places. Well, Hops Hill is one of those places. The taps are mostly under $10, though, and some bottles are offered for $6, so the level you want to spend at is up to you. Other options include hard to find whiskeys, some beer cocktails, and a range of ciders. [Photo:
Facebook
]
ny.eater.com/maps/best-beer-bars-nyc
​
Hops Hill in New York Eater 15 Beer Geek Destinations in New York City
Layla Khabiri
on Jun 24, 2015, 3:15p
http://ny.eater.com/maps/best-beer-bars-new-york-city
With 12 constantly rotating taps, a surprisingly robust cider selection, and a great bottle list that includes everything from Belgian producers like Hof Ten Dormaal to cult locals like Grimm, there's something for everyone at this low-key Clinton Hill bar.
_
Hops Hill In Zagat 8 Hottest New Beer Bars in NYC
By Kelly Dobkin | March 10, 2015
https://www.zagat.com/b/new-york-city/8-hottest-new-beer-bars-in-nyc#2
Why it's hot: This no-nonsense craft-beer emporium in Clinton Hill features a massive bottled list and an ever-rotating tap list, which often includes lots of local brewers like Barrier and Singlecut. Stay glued to their
Facebook page
for tap updates.
Number of beers on tap: 12

What to eat: Choose from a small menu of meats, cheeses and sandwiches.

886 Fulton St., Brooklyn
;
347-987-4334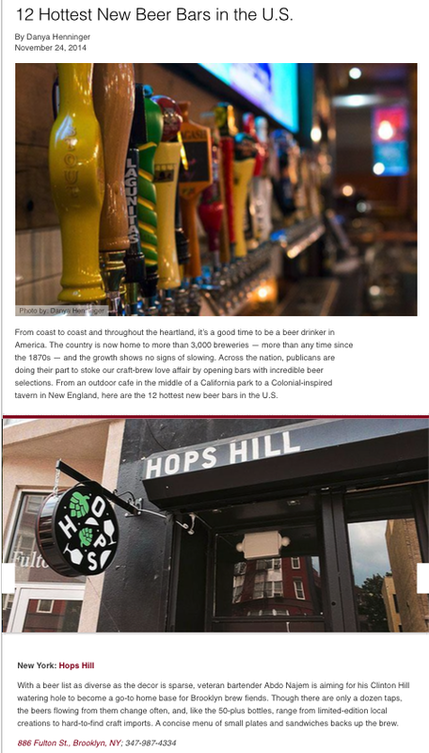 Bar Scrawl
Bartoonist gets con-brewsed BY BILL ROUNDY
for The Brooklyn Paper, October 10, 2014: Vol. 37, No. 41